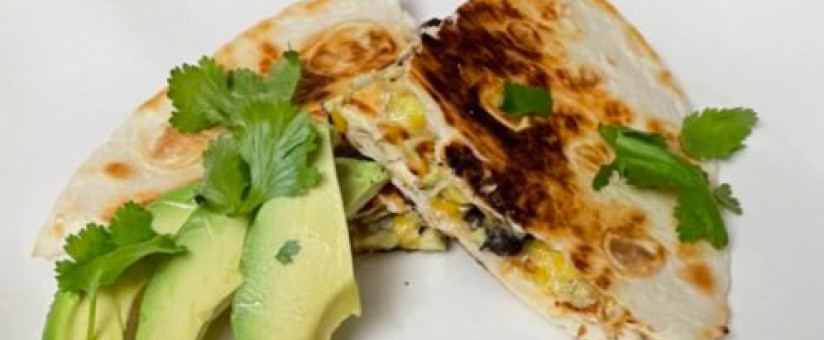 Ingredients:
2 Tbsp. diced red bell pepper
2 eggs
1/4 c. black beans
1/8 tsp. salt
dash fresh pepper
1/3 c. shredded cheddar cheese
2 tortillas
Directions:
Whisk eggs in small bowl with a fork. Add a dash of salt and pepper.
Drain and rinse the black beans.
Add 1 Tbsp. butter to small nonstick skillet and heat on medium.
Add eggs to pan and cook for 1 minute, until starting to firm up. When eggs are starting to set, scrape eggs and add bell pepper, black beans, salt and any other ingredient you choose.
Scrape eggs until fully cooked. Remove bowl and set aside.
Add remaining 1 Tbsp. butter to skillet and heat over medium high. Add tortilla, half of the cheese, the scrambled egg mixture, remaining cheese and other tortilla.
Cook 1-2 minutes per side until browned and crispy.
Remove from heat. Cut into wedges and serve with your favorite dipping sauce.
Adapted from acouplecooks.com.