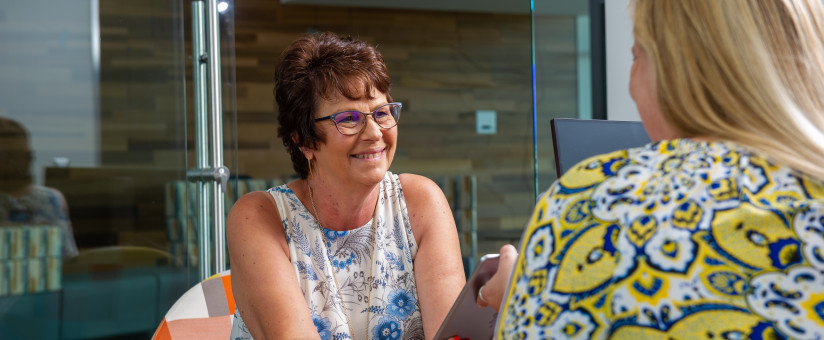 Patterson Health Center offers most of the types of care, technologies and specialties that a large national integrated health system would offer, but in a small-town, locally focused  setting — close to patients' homes and loved ones. 
Whether you're visiting for our clinic, hospital or outpatient therapies, you'll receive expert care in a friendly setting. 
At Patterson Health Center patient health and safety is most important to us. We want you to be assured when you do come to our curbside or into our buildings you are in a safe environment. We are still screening patients and staff before they come inside, and we are thoroughly cleaning rooms and equipment after each patient. We are still asking...

When you or a loved one needs extended skilled care after a hospital stay, skilled swing bed at Patterson Health Center is the answer. You'll be closer to home and your family, cared for by friends and neighbors, with instant access to a network of providers you know and trust.

At any stage of life, you might need a boost to get your health and wellness back on track. At Patterson Health Center, our dedicated local team of professionals makes access to rehab and therapy services convenient and flexible for you. You always have a choice about where you get your rehab care!  Whether you received care at another hospital,...

Patterson Health Center is a critical access hospital licensed for 25 beds. We have an enhanced emergency department with two trauma bays to support our trauma services. Our hospital services include, but are not limited to, the list below.  Skilled swing bed  Observation Acute care

Our Senior Behavioral Health outpatient program provides individualized treatment for older adults who suffer from emotional, behavioral or mental health disorders. Behavioral health challenges can affect relationships, independence, safety and overall well-being.

During the 2018 Community Needs Assessment the need for a diabetes education/program was identified. The number of Diabetes patients in the Patterson Health Center service area continue to trend up. By adding this educational service, we will be able to prevent, detect and treat chronic complications. Our patients and families will learn how to...

Heritage Estates Assisted Living provides a community for older adults who want to live an independent lifestyle, but need a little assistance with life's daily tasks. Unlike other living situations, you do not have to sign an annual lease. We operate on a month-to-month basis, so you can choose what is right for you or your family member at...

Hours Breakfast: 7:00 a.m. to 9:30 a.m. Lunch: 11 a.m. to 1:30 p.m., featuring a daily menu option, salad bar and made-to-order personal pizzas Sandwich bar: 7:00 a.m. to 6:30 p.m.  Supper: 5:00 p.m. to 6:30 p.m.

Sleep disorders can lead to irritibility, headaches, respiratory distress, cardiac distress and much more. Start your journey to a healthier, happier you with an Overnight Sleep Study.
---