PHC partners with KANZA Bank for payment program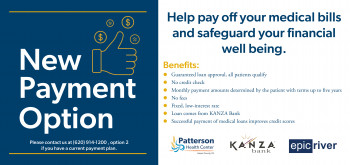 Patterson Health Center has teamed up with KANZA Bank to help patients pay their medical bills.
The payment program, through Epic River, will help the payment process run more smoothly and seamlessly. All patients qualify for the program, regardless of their credit history. Patients pick their payment amount and the duration of the loan, up to five years.
Successful payments of the medical bill loans also help improve credit scores.
Patients who are already on a plan for short-term payment options at PHC of less than 12 months can continue using the program. Long-term options must be transferred to the new payment option with KANZA Bank.
Please contact PHC at (620) 914-1200, option 2, for more information about transferring loans to KANZA Bank.
---