SHAPE Award proves excellence in safety and health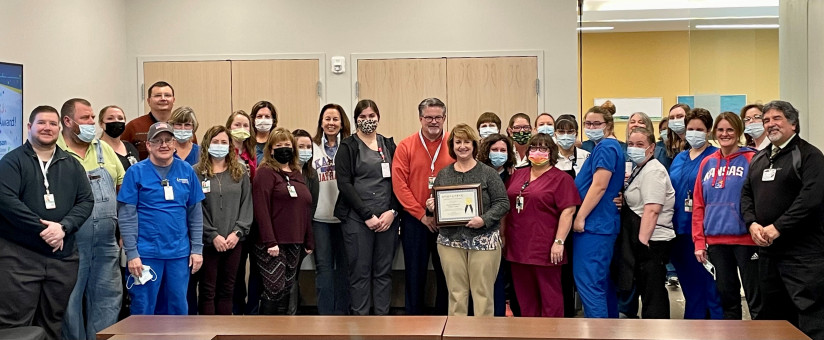 When Tim Cruz got the call to come audit the safety standards at Patterson Health Center, he was shocked.

The Kansas Department of Labor doesn't typically get a call from an entity being proactive for a safety inspection. But the staff at Patterson Health Center wanted to make sure all of their safety standards were up to par. The best way to do that was to have an inspection and fix any hazards as soon as possible.
Cruz wasn't the only one who was impressed.

"I want to congratulate you guys," Shane Etzold, safety consultant with the Kansas Department of Labor, said "This is really a big deal. I'm not going to say it was easy, it took a lot of work on your part, but the commitment from when we walked in the door all the way through the process and responding to the survey, we could tell that you guys were committed to doing the best you could for the employees to make it a safe working environment."

During the inspection, PHC had minimal hazards - most were fixed on site and the others were fixed within 30 days, less than half of the time required to be fixed. Cruz suggested staff apply for the rare SHAPE Award.
The safety team at the Kansas Department of Labor conducts nearly 400 safety inspections per year, and PHC is only the 10th entity to receive the SHAPE Award since its inception in 2012.
"We do a lot of audits, and to only give out 10 awards, you can see how special that award is," Cruz, public consultant supervisor for the department of labor, said.
The award was created when the Industrial Safety and Health Division assembled a committee to form the recognition program for Public Sector employers. Other entities that have received the SHAPE award include City of Derby, City of De Soto, City of Lansing, City of Manhattan, City of Moscow, USD 405 Lyons, Flint Hills Technical College, KSU-Polytechnic Campus and KDOT District 3 Area 3.
"This really is about (our staff) today," Pat Patton, CEO, said during a reception on March 10.
Qualifications for SHAPE include:
1) Establishment has had a comprehensive safety inspection from a Kansas Department of Labor (KDOL) consultant within the last two years;
2) If the establishment received a comprehensive safety inspection from a KDOL consultant within the past five years, all hazards must have been corrected;
3) Establishment must meet one of two criteria:
     a. DART (days Away, Restricted, Transfer) and TRC (Total Recordable Cases). Rate must be below the most recently available Kansas State Average for the combined local and state government rate.
     b. The establishment has documented a minimum number of safety training hours based on the size of the entity for at least three months prior to application.
4) All applicants must submit an OSHA 300 log or an equivalent.
"The board is very proud of you," Kimberly Schrant, board chair, said. "I think you should be super proud. We've had a rough couple of years with COVID-19, but you have done extremely well. I'm really looking forward to always working on that culture of excellence that we've started and that we're going to continue."
---