PHC seeks tax credit to meet need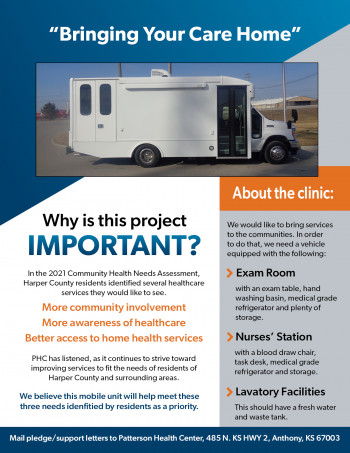 In the 2021 Community Health Needs Assessment, Harper County residents identified several healthcare services they would like to see, including more community involvement, more awareness of healthcare services and access to home health services.

Patterson Health Center has listened, as it continues to strive toward improving services to fit the needs of residents in Harper County and the surrounding areas. PHC has already begun a "Bringing Your Care Home" campaign in a couple of senior living communities in Harper County, and it hopes to purchase a mobile clinic unit to help expand its campaign of bringing healthcare to those who may not be able to make it out.
To do this, Patterson Health Center plans to submit an application to the Kansas Department of Commerce to apply for the Community Service Tax Credit Program. This program allows tax credits to be awarded to Patterson Health Center, and the donor can receive a 70% tax credit on their Kansas Income Tax return the year the credit is issued.

If awarded, a mobile unit will be purchased for the project. This unit can also be utilized to offer mobile services to the community - wellness checks, blood pressure checks, glucose checks, kindergarten screening, school physicals and more. It can also be used for community outreach to distribute public health information to schools, nursing homes, churches, workplaces, veterans and other community services, as well as educate patients on a variety of health issues. Another utilization can be for preventative screenings and occupational medicine services to be taken to businesses.

Part of the application process for the tax credit requires letters of support and pledge letters. We would appreciate your support and/or pledge for this project of bringing a new line of healthcare to Harper County and the surrounding areas. The pledge letter does not commit you to a donation, if for some reason you can not donate. Please let us know if you would like an example of a support or pledge letter. Remember that the letters must be personalized.

Our turnaround time on this project is quick, so please return your letter by April 10, 2022. You may mail it to the address at the top of this letter, or you can scan a signed copy of your letter in and email it to info@pattersonhc.org.
Thank you so much for your support on this project, and please contact us at (620) 914-1200 if you have any questions.
Lori Allen, COO; and Kristen Birket, Director of Marketing
Downloads
---