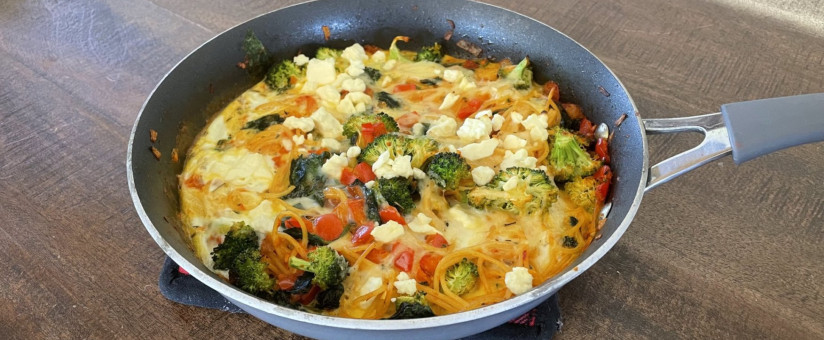 Ingredients
2 c. cooked spaghetti
2 Tbsp. olive oil, divided
4 large eggs
1/2 tsp. dried thyme
1/4 tsp. salt
1/8 tsp. ground pepper
1/4 c. grated parmesan
2 cloves minced garlic
1/2 large bell pepper, cored and chopped
1 cup of broccoli, chopped
2 c. kale or spinach
1 c. marinara sauce
2 Tbsp. feta cheese
1 small onion, finely chopped
Instructions
Preheat oven to 350 degrees.
Bring a pot of water to a boil and cook spaghetti al dente. Drain, add 1 Tbsp olive oil and set aside.
In a large bowl, whisk eggs, thyme, salt and pepper. Stir in parmesan and set aside.
Heat 1 Tbsp. olive oil in an oven-safe pan over medium heat. Saute garlic and onions for a couple of minutes, until fragrant. Add chopped peppers, spinach and broccoli to the pan and cook for about 5 minutes, stirring frequently.
Turn heat to low and add spaghetti and marinara to pan. Stir together until well combined.
Spread all ingredients in the pan and pour whisked egg mixture over the top, make sure it reaches all parts.
Crumble feta overtop and put pan in the oven. Bake for 15-20 minutes, until eggs are cooked through. Remove from oven and cut into halves or quarters. Serve immediately.
Recipe adapted from walderwellness.com
---