Masks optional during low COVID-19 transmission rates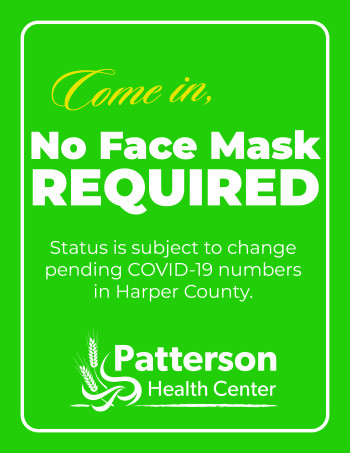 Patients who come to Patterson Health Center are allowed to unmask while COVID-19 transmission rates are low.
However, patients and staff who have respiratory symptoms must continue to mask at all times. Respiratory symptoms include a cough, sneezing and a stuffy or runny nose.
The COVID-19 transmission rates will be tracked each week to determine whether Harper County has a low, substantial/moderate, or high community transmission level. The status will be communicated through signage at the entrances of PHC, as well as on the Facebook page.
The following status markers will indicate whether patients and employees must wear a facemask:
Green - This indicates a low transmission level. While in the green level, masks are not required unless the patient or staff member has respiratory symptoms.
Yellow- This indicates a substantial/moderate level. While in the yellow level, masks are not required, but they are recommended. Anyone with respiratory symptoms are required to mask.
Red - This indicates high community transmission. While in the red level, procedural masks will be worn by all patients, visitors and employees.
Some patients may still be screened for COVID-19 before entering the building.
PHC continues to follow guidance from Centers for Medicaid and Medicare Services, the Centers for Disease Control and Prevention and the Kansas Department of Health and Environment.
Continue to follow the PHC Facebook page for masking updates and more.
---