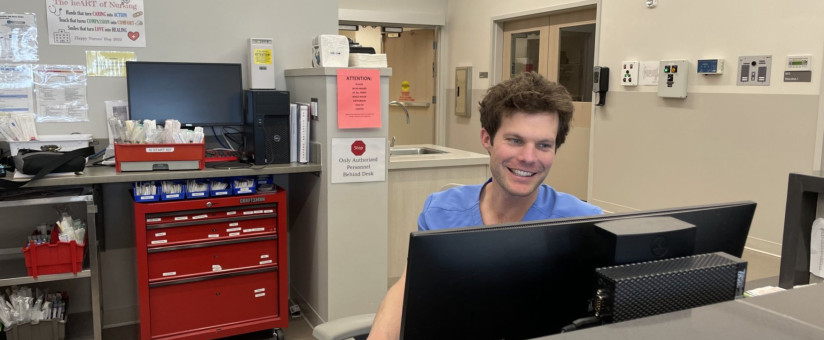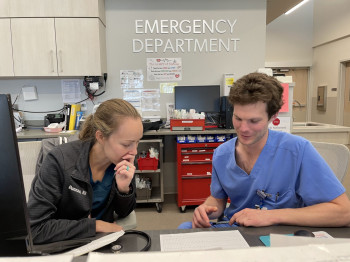 Dr. William Patterson, MD, sat behind a desk analyzing a patient chart.
His fingers gripped a black pen as he studied the paper. As the automatic sliding door opened in front of him, he glanced up to see the second patient of the day.
It's a passion for family and the small rural farming community that brought Patterson to Harper County. It's the love of connection that gave him the desire to work a 24-hour emergency room shift at the hospital that bears his family's name.
"My dad often said you don't have to be the smartest, you just have to work the hardest," Patterson said. "He did that, and I'm trying to follow that advice as well."
Patterson's father is Neal Patterson, the Harper County native who co-founded the Cerner Corporation and carried a work ethic and brilliant mind into a career in medical information technology. He also had a passion for medical care in Harper County. When Neal Patterson learned that Anthony Medical Center and Harper Hospital were struggling financially, he proposed a merger. Neal Patterson and the Patterson Family Foundation donated a combined $35 million towards building the new critical access hospital, and it came into fruition in July 2019. It was named Patterson Health Center after Neal Patterson, who died of cancer in 2017.
Dr. Patterson, fondly called "Will," was still in residency at Medstar Washington Hospital Center in the Washington D.C. area when Patterson Health Center opened its doors. He has since moved to Texas and challenges himself as an emergency room physician in one of the largest and one of the smallest hospitals in the state. He splits his time between Methodist Hospital in San Antonio - one of the largest capacity hospitals in the country with 1,536 beds - and a critical access hospital called Ascension Seton Highland Lakes in Burnet, Texas, with a capacity of 25 beds.
They both have their perks.
"I always loved the ER since it's a very humbling field of medicine," he said "People are constantly surprising you. It's also an area of medicine where you have to work closely with others, so I enjoy the teamsport aspect of the work. You also get to help patients through what is often one of their worst days, so getting to feel useful and helpful to people in those situations is really rewarding."
Small town holiday
The smell of turkey lingered in the air toward Patterson Health Center's cafe on Nov. 23 - the day before Thanksgiving - as Dr. Patterson worked his shift. The staff and patients were treated with their annual Thanksgiving feast. Dr. Patterson was waiting for the shenanigans he would have the next day with his extended family, including cousin Alan Patterson, who serves as chairman of the Patterson Health Center board.
They were looking forward to the same meal most people have - with turkey and all the fixings. But the real treat was a tradition that started long before he could remember, and it continues today. Dr. Patterson was ready for his "gross out food."
He can still recall the first time he was able to take part.
"My childhood initiation was to eat pig's feet," he said.
It didn't end well.
Everyone in his family is initiated into the tradition. Spouses. Significant others. Friends. They all have to take part.
He also was excited to visit Irwin Potter for a malt and spend time hanging out with family on Alan Patterson's back patio.
Following his dad's advice
As Dr. Patterson gave his tender care to patients in his father's home community, he couldn't help but think about the advice his dad gave him.
"Timing is everything," Dr. Patterson said. "I think there's a season to everything - knowing how to embrace that and make the most of your time is a constant question for me."
That advice is with him when he's spending time outdoors - when he's in a tent or floating on an open body of water. It's with him when he's rock climbing and even doing one of his favorite past-times - petting dogs.
It's that advice that flows through when he smiles at a patient who needs a bright spot in their day. It's there when he and his coworkers find ways to save someone's life.
On November 23, that advice was there as he showed grace in a hospital that was a part of his father's legacy.
---