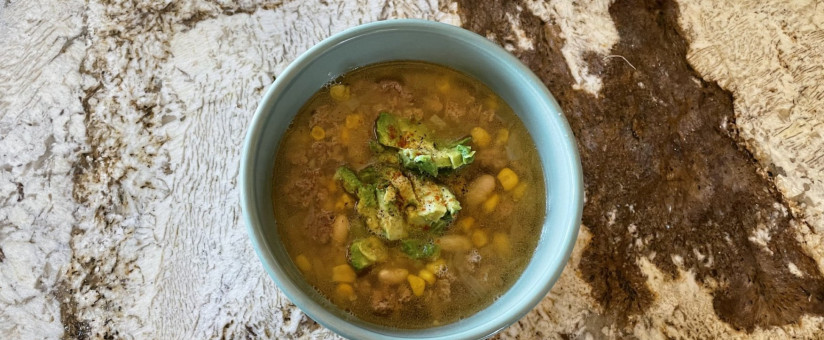 Ingredients
2 Tbsp. extra-virgin olive oil
1 large onion, diced
4 garlic cloves minced
1 lb. ground turkey
2 tsp. ground cumin
1 tsp. ground coriander
1 tsp. cayenne pepper
4 c. chicken broth
1 15-oz. can white beans
1 15 oz. can corn kernels
1 diced avocado
salt and pepper for seasoning
Directions
In a large pot, heat olive oil over medium heat. Add onion and saute until translucent, about 5-7 minutes. Add garlic and continue to cook until fragrant, about 1 minute.
Add turkey and cook until fully cooked, about 5 to 7 minutes. Add cumin, coriander and cayenne and season with salt and pepper. Cook until fragrant, about 1-2 minutes.
Stir in chicken broth and bring soup to a simmer over medium heat. Reduce to low and simmer for 30-35 minutes, until a good flavor develops.
Stir in the corn and beans and simmer for 2-3 minutes.
Top with avocado before serving.
Adapted from PureWow.
---