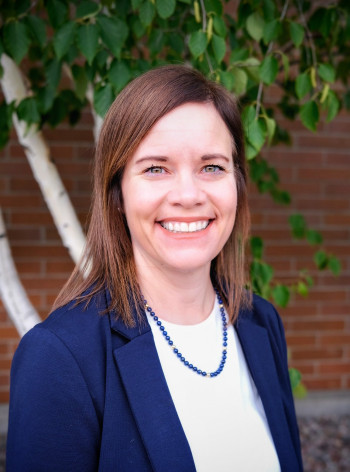 Patterson Health Center is pleased to announce that Sarah Teaff, PhD, FACHE, has been selected as the new Chief Executive Officer.

"I am humbled and honored to be chosen as the next CEO of Patterson Health Center," Teaff said. "I have dedicated my career to rural health care and am very excited to work with the wonderful team at PHC. Together, with our community, we will guide this beautiful, state-of-the-art facility into the future."

Teaff plans to start her position at PHC in February. She will succeed Lori Allen, who served as interim CEO since August. Teaff has more than 17 years of management experience in several areas of the healthcare industry. She has been the Chief Operating Officer at St. Luke Community Healthcare in Ronan, Mont., since 2016. While there, she collaborated with competitors, health departments and tribal health to bring in community health workers to improve access to the underserved. She also serves as project director for behavioral health programs within the organization.

Before that, she served in several roles at Lillian M. Hudspeth Memorial Hospital in Sonora, Texas, including Associate Administrator, Administrator for Home Health and Hospice, Director of Marketing and Public Relations, and Director of Wellness.

"Sarah has a passion for rural healthcare and is eager to become part of this organization and our community," Alan Patterson, Chairman of the PHC Board, said.

Teaff has a master's of education from Angelo State University in San Angelo, Texas and a PhD in Organizational Leadership from Our Lake of the Lady University in San Antonio, Texas. She also just completed a Healthcare Leadership Certification at Carroll College in Helena, Mont., and she is a fellow with the American College of Healthcare Executives.

Teaff is married to Robert Teaff. They have two adult children. Their son, Aiden, 22, just finished his associate's of science degree at Flathead Valley Community College in Kalispell, Mont. Their daughter Carlynn, 19, just completed her first semester at the University of Montana in Missoula. Aiden and Carlynn are both interested in Wichita State University and plan to work on their bachelor's degrees in Kansas.

"My family and I will be proud to call Kansas home," Teaff said.

Patterson said the PHC board is thankful to Allen for serving as interim CEO since August 2022. He is also thankful to the PHC staff for their hard work during the CEO transition.
---