PHC, Health Foundation work to bring dialysis to Harper County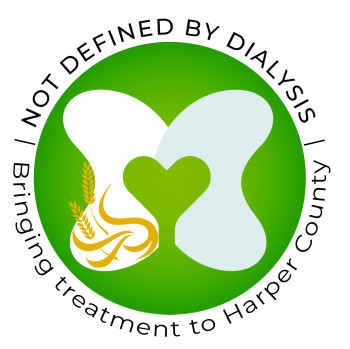 As Hal Greve takes his triweekly jaunt to a dialysis center in Wichita, he glances out the window to see Patterson Health Center.
What if he was able to spend more time during the week with his family?
What if he was able to avoid a long ride to Wichita?
What if he only had to travel the five miles to Patterson Health Center for dialysis treatment?
A collaborative effort between the Harper County Health Foundation and Patterson Health Center seeks to eliminate the "what if." But it'll need help from the community to bring dialysis to Harper County. The health foundation will match up to $200,000 in earned funds.
"Hal represents the heart of this campaign to provide a sustainable long-term local solution to dialysis patients," Martha Hadsall, Harper County Health Foundation chair, said.    
WHAT IS DIALYSIS?
Greve was diagnosed with End-Stage Renal Disease five years ago. His wife was his initial caregiver, but after it became burdensome, Greve and his family decided that he should take his treatment to Wichita.
"It's complicated and it needs to be done with care because there's a great deal that can go wrong," he said. "It's a great burden on a caregiver to be your dialysis partner."
Dialysis is a procedure to remove waste products and excess fluid from the blood when the kidneys stop working properly. Dialysis is needed when patients reach stage 4 or 5 of Chronic Kidney Disease. It is often a lifelong process unless a patient receives a kidney transplant.
Patterson Health Center plans to use the latest dialysis technology called a Tablo machine, which is designed to be portable and create a better experience for patients and providers. One room in the hospital will be designated for dialysis, and it is slated to be available three times a week.
The Tablo is a Hemodialysis machine, which is the most common form of dialysis. During the procedure, a tube is attached to a needle on the patient's arm. Blood passes along the tube and into an external machine that filters it before it's passed back into the arm along another tube.
Each session lasts about four hours.
"To date, approximately 5,000 Kansans are living with End-Stage Renal Disease," Sarah Teaff, Patterson Health Center CEO, said. "Without treatment, End-Stage Renal Disease is fatal. Rural residents who need dialysis often travel hundreds of miles per week to receive life-saving care. The addition of dialysis at Patterson Health Center will be tremendously beneficial for patients and their caregivers. We are so grateful that the Harper County Health Foundation is partnering with us to expand access to care for residents of Harper County and the surrounding communities."
For patients like Greve, it would save him three trips a week, and he might be able to be at Patterson Health Center if he needed to be in the hospital.
"It would be extremely convenient," he said. "I think it would draw a lot of things to our community, as well as a benefit to those who are on dialysis."
MAKING A DIFFERENCE
Dialysis has been a topic of conversation in the Community Health Needs assessments, and using technology to bring care closer to home was Neal Patterson's hope when he and the Patterson Family Foundation donated $35 million to build Patterson Health Center.
"Today with information and medical technologies, it is possible to design a rural system with access to almost all of the care standards and specialty skills of a large national integrated health system - a system that helps right decisions to be made with the right skills at the right time," Patterson wrote in the letter to the Harper Hospital and Anthony Medical Center boards. "Simply speaking, lives will be saved and more health care will stay in the community, which brings real economic benefits to the community."
It won't be a money-making project. For-profit dialysis companies have closed centers that are not making a significant profit. However, PHC and the health foundation are prioritizing patients over profit, and part of the health foundation's goal is to help sustain the project for several years to come. They want to make sure that patients who are on dialysis will have a better quality of life by eliminating a large portion of their ride - and their time - by getting their treatment at PHC.
"Harper County and its surrounding counties are dialysis deserts," Hadsall said. "This project provides the opportunity to serve not only our neighbors, but patients from nearby rural communities. The foundation wants to serve both as a safety net for lean times and have available funds to purchase additional machines when the program grows. Decisions will be made locally rather than in a distant corporate office."  
WANT TO GIVE?
Online: Visit hcohf.org/dialysis-campaign and click the "donate now" button.
In person: Bring a check to Patterson Health Center, 485 N. Kansas Highway 2, and mark the check for the dialysis project. It should be written out to the Harper County Health Foundation OR Reach out to a Harper County Health Foundation board member.
By mail: Send your donations and suggestions to Harper County Health Foundation, 485 N KS HWY 2, Anthony, KS 67003.
Need more info? Contact the Harper County Health Foundation at  (620) 243-3578. Medical questions should be referred to Sarah Teaff, CEO of Patterson Health Center, by calling (620) 914-1200 or emailing steaff@pattersonhc.org.
Downloads
---