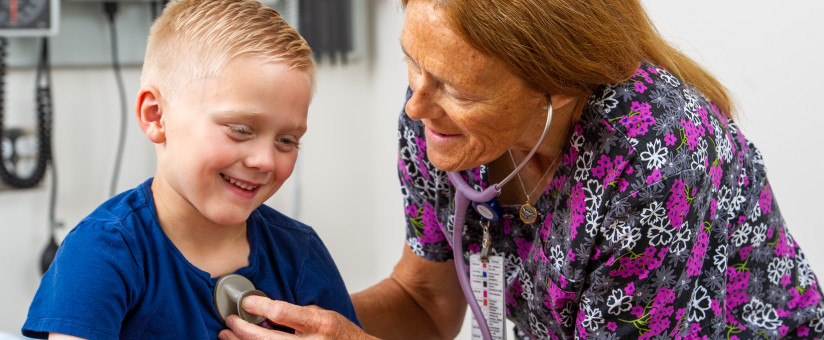 NEW ACCESS FOR CLINIC CARE 
Patterson Health Center is keeping patient care a priority. For convenience and safety, we are happy to announce we have added Curbside Lab and Curbside Clinic Visits. This allows the patient to drive up, remain inside their personal vehicle, while we take our services to them. You may notice our staff wearing additional PPE, this is to protect the patient and themselves.
Curbside Lab – 8am-4pm Monday thru Friday. YOU WILL NEED TO CALL IN ADVANCE TO SCHEDULE AN APPOINTMENT FOR THIS. You will also need an order from your provider for the lab. (This may be faxed to us too) This service is recommended for those who frequently need standard blood work or for those who may have a compromised immune system.
Curbside Clinic – 8am-5pm Monday thru Friday. You will need to call 620-914-1200 to schedule this visit in advance. This visit is just like a regular clinic visit, only you can stay in your car. This service may be used by infants and children to young and older adults if you are needing to be seen for an acute illness, allergies, chronic disease management or a wellness exam.
Curbside Driving Directions:
Once you enter the Patterson Health Center campus from KS HWY 2 you will see our curbside signs that will direct you to drive south around our building for LAB leading you to the back of our building (west side) where LAB curbside services are available. CLINIC services you will turn right this will take you to the north side of the facility where you will turn left into the ambulance bay.
Telehealth – 8am-5pm Monday thru Friday. You will need to call 620-914-1200 to schedule this visit in advance. This visit is just like a regular clinic visit, it may be done in your home or wherever you may be. Our providers can see patients from infants and children to young and older adults. You will need to use your computer, smartphone or iPad along with internet access to be able to connect with your provider.
We do understand that Curbside and Telehealth may not be for everyone.
We are still seeing patients in our clinics too.
At Patterson Health Center patient health and safety is most important to us. We want you to be assured when you do come to our curbside or into our buildings you are in a safe environment. We are still screening patients and staff before they come inside, and we are thoroughly cleaning rooms and equipment after each patient. We are still asking you to "Call ahead" to speak to a nurse if you have had a fever or flu like symptoms. Patterson Health Center is here to take care of you! Our patients are our priority.(APRIL 2020)
One of the best ways to stay healthy is to take advantage of preventative healthcare services at Patterson. See your provider regularly, as well as any time you feel, "Something just isn't right."
With preventative care at Patterson, you have a better chance of early detection of everything from diabetes to cancer. Preventative healthcare gets you on the right path to treatment, as well as to feeling better. Some of our preventative services include:
General "just not feeling well"
Disease and medication management
Routine checkups
Screenings for skin cancer, prostate cancer, depression and bone density
Nutrition education
Sports physicals
Well-child checks
Well-man and woman visits
Women's health services: pap smears, breast and cervical cancer screenings and contraceptive management
Immunizations for flu, pneumonia, tetanus, meningitis and hepatitis
Allergy treatment
Our clinic has 22 exam rooms, and each staff member is eager to make your time here as enjoyable as possible. 
OCCUPATIONAL MEDICINE
We offer Occupational Medicine Services for businesses in our communities. Our occupational services include, but are not limited to: 
DOT-certified exams
Pre-employment physicals
Blood alcohol lab testing
EKGs
Physical therapy and occupational therapy
Workers compensation assessments
Drug screens
OUTPATIENT SERVICES
Our Outpatient Specialty Clinic at Patterson offers:
Cardiology
Urology
OB-GYN
Hematology/oncology
General surgery
Wound care
IV therapy
Additional Locations
Patterson Health Center has two additional rural health clinics to choose from, for your convenience:
Conway Springs Rural Health Clinic
111 W Spring
Conway Springs
Phone: 620-456-2411
Attica Rural Health Clinic
302 N Botkin
Attica
Phone: 620-254-7272
---